Overview of Price Changes
There are two components to the price increase that are coming in 2022:
Microsoft 365 Subscription increases
Microsoft Service Provider License Agreement (SPLA) increases 
Microsoft Cloud Services Price Increases for 2022
On March 1, 2022, Microsoft will update its pricing for the following commercial products: 
| | | | |
| --- | --- | --- | --- |
| Subscription Plan Name | Old RRP (Ex. GST) | New RRP (Ex. GST) | % Increase |
| Microsoft 365 Business Basic | $7.56 | $9.07 | 20.0% |
| Microsoft 365 Business Premium | $29.75 | $32.73 | 10.0% |
| Office 365 E1 | $11.10 | $13.88 | 25.0% |
| Office 365 E3 | $29.10 | $33.47 | 15.0% |
| Office 365 E5 | $50.76 | $55.13 | 8.6% |
| Microsoft 365 E3 | $46.76 | $52.61 | 12.5% |
These increases will apply globally with local market adjustments for certain regions. There are no changes to pricing for education and consumer products at this time.
Additionally, Microsoft announced that they will be adding unlimited dial-in capabilities for Microsoft Teams meetings across enterprise, business, front-line and government suites over the next few months. While currently only included with Microsoft 365 E5 and Office 365 E5, Microsoft has come to see dial-in as an important part of the complete Teams experience since consistent Internet connections are not always available.
Microsoft Subscription Licenses (SPLA) Price Increases for 2022
Raines Internet Solutions provides Microsoft licensing to our clients through the SPLA program from Microsoft to license Windows operating systems and applications. This is a convenient way for our clients to source the software as part of the services they consume from us, as the licensing is provided for a contracted term and paid on a monthly basis.
Effective January 1, 2022, Microsoft is raising the price by up to 10% for a range of SKUs offered through the SPLA program. This applies specifically to the product families in the following table.
| | | |
| --- | --- | --- |
|  Product Family | SKU | Price Increase |
| Windows Remote Desktop Services SAL | 6WC-00002    | 10% |
| Windows Rights Management Services CAL         | T98-02400 | 10% |
| Windows Server Datacentre Core | 9EA-00039 | 10% |
| Windows Server Standard Core | 9EM-00562 | 10% |
| Core Infrastructure Server Suite Datacentre Core | 9GS-00495  |  7% |
| Core Infrastructure Server Suite Standard Core | 9GA-00006 |  5% |
| Office Professional Plus | 79P-01747 | 10% |
| Office Standard | 021-08183 | 10% |
| Office Multi Language Pack | 79H-00128 | 10% |
| Project Professional | H30-03425 | 10% |
| Project Server | H22-01677 | 10% |
| Project Standard | 076-04015 | 10% |
| Visio Professional | D87-03215 | 10% |
| Visio Standard | D86-03116 | 10% |
| Visual Studio Enterprise | NL7-00024 | 10% |
| Visual Studio Professional | C5E-00746 | 10% |
| Visual Studio Test Professional | N3F-00077 | 10% |

For customers who are leasing software licenses under the service-provider license agreement (SPLA) with Raines Internet Solutions will expect the following pricing increases to take effect in the second billing cycle for 2022. These increases apply to software subscriptions used in our hosted infrastructure services as well as on-premise infrastructure that we manage for clients.
New Products and Capabiilities Added Since Microsoft 365 Launch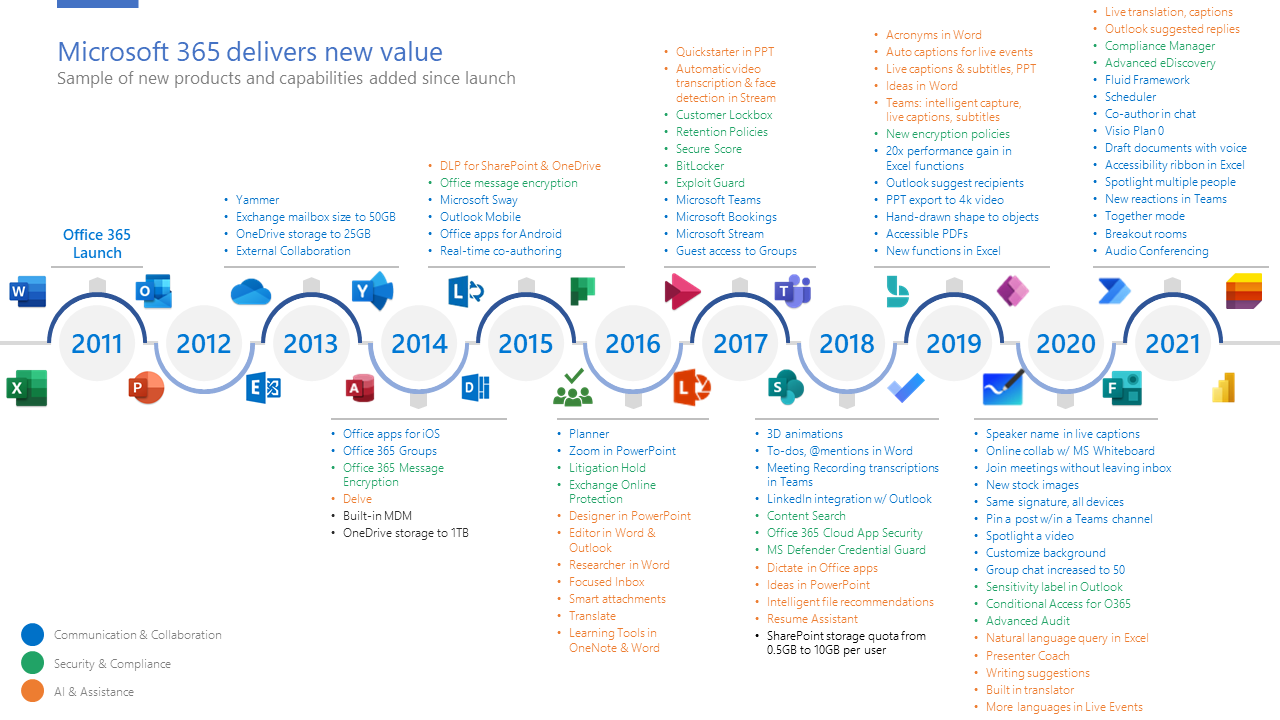 Frequently Asked Questions
Why is Microsoft adjusting prices? 
Since its launch a decade ago, Office 365 has grown to over 300 million commercial paid seats. Along the way, Microsoft have continuously re-invested to meet the changing needs of customers. Four years ago, Microsoft introduced Microsoft 365 to bring together the best of Office, Windows, and Enterprise Mobility and Security (EMS). That same year they added Microsoft Teams as the only integrated solution where you can meet, chat, call, collaborate, and automate business processes—right in the flow of work.
In fact, since introducing Microsoft 365 there has been 24 new or updated apps to the suite — Microsoft Teams, Power Apps, Power BI, Power Automate, Stream, Planner, Visio, OneDrive, Yammer, and Whiteboard — and have released over 1,400 new features and capabilities in three key areas.
1. Communication and collaboration: Microsoft Teams is the new front end across work, life, and learning for more than 250 million monthly active users. Microsoft launched Teams in 2017 as the only integrated solution where you can meet, chat, call, collaborate, and automate business processes—with the power of the Office apps—all within the flow of work. In 2020 alone Microsoft released over 300 new capabilities including Together mode, background effects, large gallery view, raise hand, live reactions, breakout rooms, live captions with speaker attribution, and Fluid components, just to name a few.
Microsoft introduced a new category of collaborative applications in Teams, empowering people and organisations for hybrid work through deep integrations with Power Platform, Whiteboard, Lists, Planner, Shifts, Forms, and SharePoint. Companies like Adobe, Atlassian, Salesforce, SAP, ServiceNow, and Workday have built apps that deeply integrate with Teams, bringing business processes and functions directly into the flow of work.
Microsoft continue to innovate on both real-time and asynchronous collaboration. We introduced real-time collaboration in Word, Excel, and PowerPoint desktop apps while a growing set of capabilities like @mentions, assign tasks, modern comments, and auto-save have streamlined the collaboration experience. They've added and expanded OneDrive cloud storage and the Exchange Online mailboxes.
2. Security and compliance: The cybersecurity landscape is more complex than ever. With the accelerating volume, sophistication, and scale of cyberattacks, security and compliance are a priority for every organisation. Since Microsoft 365 was first introduced, Microsoft have added new attack surface reduction capabilities to help organisations defend against ransomware and other threats. Microsoft have added capabilities like data loss prevention (DLP) for email and documents, sensitivity labels, and message encryption to help keep important data within the organisation. Microsoft have also added powerful compliance capabilities that help organisations reduce risk and respond to increasing regulatory requirements such as Content Search, eDiscovery, and core Litigation Hold. Built-in mobile device management (MDM) and other management tools like Microsoft Endpoint Manager help admins support remote and hybrid workforces.
3. AI and automation: Over the past decade, Microsoft have infused AI capabilities across our productivity and collaboration applications to help everyone achieve more. Across Microsoft 365, they have introduced AI-powered innovations to help users be better writers, designers, and presenters. Cloud-powered AI now automatically creates maps, charts, and tables in Excel, and sorts email and removes clutter in Outlook. AI-powered real-time translation, captions, and transcription make collaboration and communication more accessible and engaging for everyone.
How frequently do you plan to make these changes? 
Microsoft periodically assesses the impact of its pricing to ensure there is a reasonable alignment with the needs of its customers, partners, and the marketplace across the region, and may make changes in response to its assessment and feedback. For SPLA licensing programs, Microsoft can only make adjustments to the price list once per year as per the agreement and this will generally occur on the 1st of January.
For any questions regarding the pricing increases mentioned in this post. Please contact our support team using the Contact Us link above.
vendredi, décembre 24, 2021